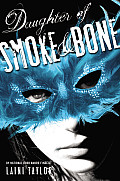 Review Done By: Aneeqah's Not So Real Life
_______________________________________________
Daughter of Smoke and Bone
by Laini Taylor
Rating:
4/5 Stars
Genre:
Urban Fantasy, Paranormal, Magic
Review:
This story is about a girl named Karou, who lives in a town called Prague, in the Czech Republic. She's a little unusual. She has blue hair, draws incredible well, plus other strange details, but the strangest thing being: she lives a double life. All of her life, she's been divided by her two lives, her normal one, and her not-so-normal one. And all of this time, she's always felt a little... off. But how could she not, working for a magical teeth-collecter?
I think I surprised myself in two ways while reading this book. Let's start with the good one. Even though there's lots of unfamiliar words and names in this book, I could remember them and keep them seperate without any problem. Usually, with lots of confusing names, I have to flip back in the book and try to figure out which person is which, what word means what, or I just keep reading and hope it makes sense to me. But I never found myself doing that in this book. Ms. Taylor made very distinct names and characters, and so it was very easy to keep up with everything.
The other thing I surprised myself with was that I easily guessed the whole mystery of the book. The whole question, the suspense, once I met the other important charcter, I guessed it with a snap. I'm not sure if it was supposed to be that obvious, because I'm absolutely
terrible
with figuring out the mystery. Seriously. Something could be so obvious, and I would totally miss it. But that wasn't the case in this book. Which very much surprised me.
One thing I also loved about this book is the description. I've read some very descriptive books before, and to be honest, I just skimmed through alot of those books. But the descriptions were so unique in this book, and it painted a picture of the whole scene to me. I think it defiantly added a whole lot to this book, and it made it better.
Also, I think Mrs. Taylor added lots of details in the magic aspect of the book. I don't want to give anything away, but I feel as everything is very well-thought out, and I don't even think I have any questions about how it all works, and trust me, I always have questions!
The things I didn't like about the book? The main problem for me would probably be that it dragged in places. I know the author had to set up the scene and everything, but for me, that took too long, and honestly, it got kinda boring in the beginning of the book. It took a while for me to actually begin to get really intrested, and even then, the book sometimes lost my intrest near the end. The middle was for sure the most intresting part for me, where there was some really good conflict and some action.
Another thing I
strongly
disliked was the fabulous cliffhanger. Honestly, I shouldn't have expected more from this book. I don't think I've read a book that came out this year that doesn't have a cliffhanger. It would have been nice if this book would have been different, but of course, it didn't. Cliffhangers are really starting to get on my nerves. But, hey, that's the price you pay for reading good books, right?
In the end, I think this book is great for more older readers. Younger kids won't really enjoy it, since it doesn't have much action in it. Honestly, I was expecting more action than what I got, which isn't necessarily a bad thing. But it was still a pretty good read. I'll be looking forward to the next one!
Tweet