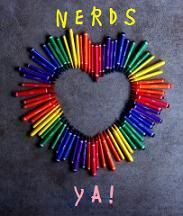 Woo-hoo! They just announced the Nerds Heart YA Short list!
Nerds Heart YA
is a battle of the books contest where the books have special qualities and were published in 2010.
Books could be nominated if they had characters in at least one category:
Persons of Color
GLBT
Disability
Mental illness
Religious lifestyle
Lower socioeconomic status
Plus-size
Nerds Heart YA 2011 Short List
A Love Story Starring My Dead Best Friend - Emily Horner
Abe in Arms - Pegi Dietz Shea
Bamboo People - Mitali Perkins
Bleeding Violet - Dia Reeves
Dark Water - Laura McNeal
Dirty Little Secrets - CJ Omololu
Efrain's Secret - Sofia Quintero
Eighth Grade Superzero - Olugbemisola Rhuday-Perkovich
Finding Family by Tonya Bolden
Five Flavors of Dumb - Antony John
How I Made it to Eighteen: A Mostly True Story - Tracy White
Invisible Girl - Mary Hanlon Stone
Jumpstart the World - Catherine Ryan Hyde
Last Summer of the Death Warriors - Francisco Stork
Mindblind - Jennifer Roy
Paper Daughter - Jeannette Ingold
Premiere - Melody Carlson
Pull - B. A. Binns
Stargazer - Von Allan
Stringz - Michael Wenberg
Summer Song - Louise Blaydon
Tall Story - Candy Gourlay
Teenie - Christopher Grant
Tell Us We're Home - Marina Budhos
The Dark Days of Hamburger Halpin - Josh Berk
The End: Five Queer Kids Save the World - Nora Olsen
The Kid Table - Andrea Seigel
The Red Umbrella - Christina Gonzalez
Toads and Diamonds - Heather Tomlinson
What My Momma Left Me - Renee Watson
When The Stars Go Blue – Caridad Ferrer
Where the Truth Lies - Jessica Warman
Wow, although I've read some of these titles, I've got a ways to go.
How many have you read?
Oh yeah, did I mention I'm a judge in Round 1???!!!
Tweet